I am so relieved that my sister is not afflicted with dengue. My poor sister is a nursing mother and she is unmarried so we are the only people she could depend on. Not only is it a bummer since its just the start of the year and yet we have sickness in the family, it will definitely strain our purses, especially since we are planning to build a second story in our house soon.
I prayed and prayed to God that all she has is a simple case of the flu and she doesn't need to be hospitalized. Thankfully, God heard and answered my prayers so they came back from the hospital after 2 hours of being gone. For that duration, I set the house in order since it looked as if a hurricane passed by. The dishes were stacked and clothes and pillows were strewn everywhere.
When they came back, I am sure they were happy to see that the house was clean (for now, since my baby niece will surely mess it all up again) and we have clean plates in the kitchen. I actually discovered that I don't mind cleaning the house as long as I am alone and nobody is in my way.
I have been downloading songs for my mp3 and I came across some very good and talented performers. Take this person, Sam Tsui. I am not sure if he is well known in the US and I must admit that I have never heard of him until yesterday, but I was blown away by his voice. Here's a video of him doing a cover of Rihanna's "Love the Way You Lie". Tell me what you think.
Another artist I discovered recently in Youtube.com is this guy named Nick Pitera. He is exceedingly talented since he could change his voice from male to female without any difficulty at all. I wish I could sing like him. Here's his video singing "The Climb" by Miley Cyrus.
The third artist I discovered is Darren Criss. I know he has been in my country recently but I have to admit that I didn't know who he was. It turns out that he is from the show "Glee" and he is actually half-Filipino. Wow, that really surprised me! He looks totally Caucasian. One would never know just by looking at him that he has Asian blood. I am not ashamed to admit that I have a huge crush on him, he looks adorable! Anyway, here's a video of him singing "Teenage Dream" by Katy Perry.
That's all for now! Please visit my blog again soon!
Charmedwishes...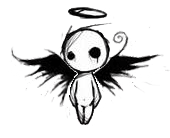 Blessed be!