I would like to tell you about an experience that happened two summers ago in my ex's aunt's store in Quezon City. I was hanging around with my ex and his uncle while they were doing some work in the store.
I was sitting on the stairs while they were working. About two feet away from me and about three feet from my companions, there was a box of vegetables sitiing flatly on top of another box of equal size and weight.
All of a sudden, the box flipped upside down, like some unseen force threw it, and vegetables went flying as the box went flying. It raised goose-bumps on all of our arms. Apparently, there was some other weird things that went on but no one would reveal to me what it was.
Charmedwishes...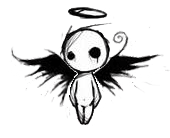 Blessed be!