Two girls, sitting across from each other over a paper scrawled with the hiragana alphabet grasp a pen between them, chanting the name softly. "Kokkuri-san, Kokkuri-san, tell me, when is the date of my death?"
The question hangs in the air as the pen slowly begins to move, spelling the answer out on the sheet of paper. The rest of the group watches in breathless anticipation.
Kokkuri-san, Japan's answer to the Ouija board, has graced schoolrooms across the country for years with answers from the beyond.
In this game, the hiragana alphabet is drawn on a piece of paper, and two people hold a pen, ballpoint touching the paper, in the center.
Closing their eyes, they ask "Kokkuri-san" a question, and the spirit is supposed to move the pen in an answer.
According to a Japanese friend, much like Ouija, most people realize that the other person is moving the pen purposefully, but everyone makes their dutiful squeals of "sugoi!" and "kowaii!" anyway.
Also, in line with its Ouija board counterpart, the game has been subject fodder for horror movies such as the aforementioned "Shinsei no Toilet no Hanako-san," and one called simply "Kokkuri-san."
Kokkuri-san is something that calls out fox spirits and other minor spirits to answer questions.
Having become popular in the 1970's, it's said that about half of the people who play with it feel something, or their minds get clouded and strange, and there are even stories of people who were hospitalized due to it.
Even recently, amongst grade schoolers and middle schoolers, versions of this "game" appear, with names like "Cupid-san," "Kirakira-sama," "Angel-sama," "Shugorei-sama" [Protective Spirit-sama], and other names like it.
Because of several social problems caused by the use of Kokkuri-san, it's been banned in many schools.
THINGS TO PREPARE
-White paper
-A pen to write with
-A ten-yen coin [I don't know if other coins work... -AS]
-A table big enough for the paper and everyone sitting around it
HOW TO DO IT
1.First, get the Kokkuri-san paper ready. On white paper, write "yes" and "no," and in between them draw a Shinto shrine archway. Under that, write the numbers one through ten, and the Japanese Syllabary [Probably in Hiragana; I wonder if it works with the English alphabet. Someone let me know! -AS].
2.Get two or three people to sit around the paper, and put the ten-yen coin on it. Have everyone put their index finger on the coin, and say the Kokkuri-san invocation. [Invocation? Invitation? That kind of word. -AS]
3."Kokkuri-san, kokkuri-san, please come to us. If you have come, please say 'yes.'" This is the chant; after this, the coin should start to move on its own.
4.Ask questions. The ten-yen coin will move to answer them.
5.After each question, say "Please go back to the archway," and the coin will move back to the center of the Shinto arch.
6.When you are finished asking questions, say the following to make Kokkuri-san stop: "Kokkuri-san, kokkuri-san, please go back," and after Kokkuri-san has answered "Yes" and gone back to the archway, be sure to say thank-you.
STUFF ABOUT WHICH TO BE CAREFUL
-Do not do Kokkuri-san alone. [It does not say why... -AS]
-Don't do this half-heartedly or mess around while doing it.
-If you have a weak heart or are easily frightened, please do not participate in Kokkuri-san.
-Never, ever take your finger off the coin until you're finished.
-Do not stop in the middle of doing this. [Also does not say why. -AS]
-If Kokkuri-san refuses to leave, keep asking it to go back and only stop when it does.
-Once you are finished, cut up the paper into 48 pieces the day you do it, and spend the ten-yen coin within three days.
Charmedwishes...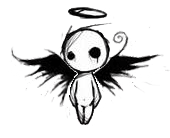 Blessed be!