The Cup of Shadows Draws Near
Filling My Mind With Fear.
Shadows Swirling, Thoughts Churning
Eyes Darkened By Loathing.
Goodbye, My Love, My Only One
I Hope You'll Miss Me When I'm Gone.
The Memory of Your Kiss Upon My Lips
The Feel of Your Skin On My Fingertips.
Curtains Are Drawn, Candles Alight
Prayers Said, No One In Sight.
My Spirit Now Freed From My Body
My Only Wish Is That You Loved Me.
(Note: I'm sorry about that this poem is substandard. I promise I will try to do better next time. This poem is kind of depressing, well that what came out of my mind. Please click this
link
.)
Charmedwishes...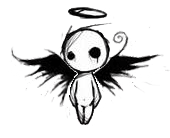 Blessed be!