I am thinking of dyeing my hair. I always had dark brown hair and I have always wondered if a change of hair color would improve my looks a little. I must admit that I am a little insecure about my appearance. I mean, I am kind of chubby and I wear glasses. I have been hanging out with these 2 gorgeous girls from work and it made me realize that I also need to look my best so I wouldn't look like a FUGLY (in case you didn't watch MEAN GIRLS starring Lindsay Lohan, fugly means "friends who are ugly"). Although I know that its kind of shallow and my friends doesn't mind being with me considering how I looked, deep within me I recognize that I have to do this for myself.
Anyway, here's my picture. This was taken a few months ago. I am holding our family dog, Sweetheart:
Here's the hair color that I want:
This shade is called Chestnut Brown
Do you think it will suit me? My mom said that I will need to have my hair bleached first so I could achieve the hair color I want. My hair is not a virgin, I already had it dyed before but I always chose dark brown, something really subtle that people don't really notice I dyed my hair at all. If ever, this will be the first time I would color my hair with something extremely noticeable.
Now let's go to my eyes. I am near-sighted and I have to wear glasses almost all the time. Most people say that I look older because of my glasses and when I do take them off, they say that they never noticed before how pretty my eyes are. LOL. Of course, I will feel all giddy and flattered when they say that. Which leads me to the topic of contact lenses. I have been planning to use contact lenses for the LONGEST time but my mother is kind of against it. She says its just a waste of money since a pair would only last me for a year, tops. Also, it is kind of expensive compared to glasses and it is so high maintenance since I need eye solution and I couldn't wear glasses for more than 8 hours, I think. This is how I look with glasses on. I am holding my niece, Yannah.
I have long debated on which color I want to use on my eyes. I finally narrowed it down to three:
Violet Eyes
Gray Eyes


Ruby Eyes
I know the last one is kind of weird. I am sure you are kind of thinking "Why would he want to have red eyes?" I was actually inspired by this anime, Jigoku Shoujo (translates as "Hell Girl"), and I kind of idolize her so I want to copy her style a little bit. I realize its kind of a nerdy thing to do and I probably would look like a demon possessed me,but hey, what have you. So what do you think?
Now let me get write about my weight. :-) I am considerably chubbier than last year and some of my clothes doesn't fit me anymore. This is really frustrating for me. I cannot go to the gym because I am not allowed by my doctor to do strenuous activities. The only option would be to go on a diet. The sad part is no matter how much resolve I have not to eat, I just couldn't help pigging out on hamburgers, fries, pizza, fried chicken. spaghetti, ice cream, chocolates, and did I mention hamburgers? Oh yes, I did.
Last Friday, my family and I went to the Mall of Asia in Pasay to do a little shopping. Of course, we got a little hungry walking around shopping so we decided to eat at KFC (Kentucky Fried Chicken). My mother just had a Twister with a Banana Yogurt Krusher, my sisters had small burgers with small fries and diet Coke, while I had
KFC Double Down Burger (no bread, 2 slices of chicken, with cheese, bacon, and other fatty things)



Large Fries


Strawberry Yogurt Krusher
A small Wow Burger (I finished eating earlier than my mom and sisters so to pass the time, I ordered another burger)


A Twister (actually only half of it since my mother couldn't finished her's)


Sigh. Yes, I know this doesn't look like what a person who is supposedly on a diet should eat. I just couldn't help it. I had absolutely no willpower when it comes to food. I envy those people who could stuff their faces until they burst but still had the figure of a ramp model. Unfortunately, I am the type whose body shows every single gram of fat that I have munched on.
Oh, did I mention that we ate at Mang Inasal's (its a popular restaurant which serves grilled chicken here in the Philippines) before we went home? We got hungry again after shopping and we ate the following:
Mang Inasal Grilled Chicken with Unlimited Rice


Just thinking about our foodtrip makes my mouth water. I am such a gluttonous pig. Oh well, I guess it will be a long time before I get this kind of body especially with the Christmas Season coming out:
This picture is of Sam Concepcion. Credit goes to Mykikuru Isyusero. Isn't he cute?



So there, that's it. Anyway, I could deal with dieting later. Maybe I will have more willpower next year, but the hair color definitely I could do now. I will post some pictures here after I have it done. Well, thanks for reading this far. :-) Feel free to give me any comments you like, whether it be positive, negative, or even neutral.
Charmedwishes...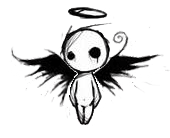 Blessed be!