Happy Thanksgiving! Actually, here in the Philippines, we really don't celebrate Thanksgiving. Maybe we should have our own version of Thanksgiving or maybe we shouldn't just assign a date specifically for that. Why not make every day a Thanksgiving day? I believe that we have a lot to be thankful for. We can thank God for giving us a roof over our head, food that we eat, and for the family that cares for us and loves us. You only have to watch and listen to the news to know that some people have less than that.
I admit that there were occasions when I was less than
grateful
for the blessings I have and I feel so much discontent. For example, the status of my love life. Although I pretend to my friends that I am happy being single and that I don't need a man to make me happy, STILL it would be nice to have someone to love me whom I also love. Though I do have my family around me who gives me love, there is another kind of love that I crave.
I have faith though, that someday someone will love me the way I always wished to be loved and I will love him with all of my heart. But for now, let me thank God for all the blessings He gave me and I promise I will share my blessings to others.
Charmedwishes...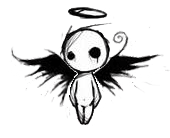 Blessed be!