We had our first Chris Kringle earlier today. For those who are not aware what a Kris Kringle is, its exchanging gifts with someone but usually there's a theme associated with it. Our theme for this week was "Something Funny". I wanted my gift to be really original so I came up with a plan. The name I picked has a Facebook account so I was able to browse through his pictures. His name is Jebonnie Miralles but he hates his name and prefers to be called Bhenj. This is his picture:
I knew that most of my co-workers would just buy whatever stuff that was readily available to give to their Monito/Monita (that's what we call those whom we picked) and I was not about to do that. I wanted my gift to be REALLY special, something not usually given in parties. However, we have a budget for the gift which is 50.00 pesos (that is just more than a dollar) so we have to be smart about the way we spend our money. Finally, I though of a unique gift. A fabulously, different, and hilarious gift.
I am not an artist, nor am I computer savvy, but I do have some knowledge of certain sites where we could modify and make crazy frames for ordinary (sometimes boring) pictures. So I thought, hey I could take a picture from Bhenj's facebook account and then mess around with it. So tongue in cheek, I copied whatever picture I could get my hands (or cursor) on and started to work.
Now it was really tricky since most of the picture he had were not right for the project. He was either facing sidewards or his angle was off. Anyway, here are the pictures that I ended up putting on a frame. LOL.
I couldn't help laughing especially with the naked people using Bhenj's picture to cover their crotch! The jailed for being emo picture wasn't so bad either, in my opinion. But I thought, what if he gets offended instead of amused? But I killed that thought as quickly as it came since I really wanted something nice and special to give him. I am not sure about the nice part, but it is special for me.
Here are the pictures that didn't quite make it to the frame but I had printed anyway. I gave the pictures to Bhenj, of course.
Anyway, so today came and we were all giving each other's gifts. I was surprised when some people actually gave funny and USEFUL gifts like a t-shirt with a funny slogan on it. I wish I could have thought of that, at least the t-shirt he could still use and all. He did laugh though and it turns out that he picked MY name also and he gave me these cute coin pouch and this lovely pen. He knew I liked Sanrio Characters and the color pink. Awwww, so sweet!
I felt kinda bad because I realized that he may not have liked my gift. Maybe he was just being polite? I just bought 2 cheap frames and placed in these kind of embarrassing pictures. Then he was thoughtful enough to buy me something that actually made me SMILE for real. Oh well, there's always the next time.I will make it up to him.
Charmedwishes...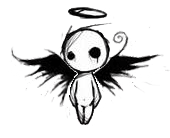 Blessed be!