Samael and Eleanzel, both sons of the Night Spirit, were loving brothers, fully comitted to each other as children.
Samael had a lover, a wind goddess Echo, whom he had a son with. Led by envy and secret desire towards his brother's love, Eleanzel has led Samael's suspicions, as the child was not his.
Samael full of faith, believing in his brother, filled with anger has killed his son and his beloved. Soon after has he discovered his lies.
Led by anger and bitterness he lost his sanity, and to kill his own pain, as a revenge to all the men kind, he is now killing all born children, letting everyone suffer as he once did.
***
samael
When the lifeless night forms a black winged wave
And scars my tainted heart with a bleeding mark,
Mountain's sharpened beaks dig my ethereal grave
And I'm spreading my arms, I become it's slave,
I welcome the dark
Frozen phantoms awake from the blazing skies
Piercing their claws through my moldered heart
I'm trying to see them with my riven eyes
But I creep into darkness, where your nations rise
Tearing me apart
Scream's howling neck blinds my vicious brain
I'm a trapped locust with a broken wing
I wield my sceptre of everlasting pain
I sit on a throne marked with lethal stain
As a crownless king
And when I finally spread my anger's disease
Frozen orbits' ashes will perish destroyed
I already feel the end's deadly breeze
And dreaming of the heavenly decease
I'll cry into the void
Charmedwishes...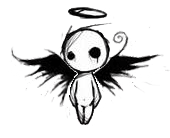 Blessed be!